How evaporators work
Discover how evaporators for industrial wastewater treatment unit work with different heat transfer technologies to provide the best solution in terms of industrial wastewater treatment and reduced energy consumption.
HOW DOES A HEAT PUMP EVAPORATOR WORK?
It works as a normal air conditioner, with two heat sources (hot and cold) to evaporate and condensate water. In consideration of the temperatures involved, a vacuum condition of 4 kPa and a temperature of 30°C are vital conditions.
WHAT ARE THE HEAT EXCHANGES INVOLVED IN A HEAT PUMP EVAPORATOR?
Energy consumption is reduced to around 150W per litre (about 5 times lower compared to atmospheric evaporation) as most of the energy (latent heat) is reused for new vapor production. Electrical energy consumption depends from the compression of the intermediate fluid and it represents the power energy to effect re-use.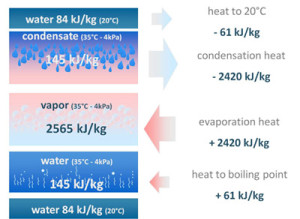 HOW DOES A MULTIPLE EFFECT EVAPORATOR WORK?
It exploits vapor produced within the first boiling chamber to produce new vapor in a second chamber with a lower temperature and pressure. This vapor recycle can be effected several times in a cascade (multiple effect)sequence on the basis of the first step of fluid heating temperature and of the fluid cooling step of the last process.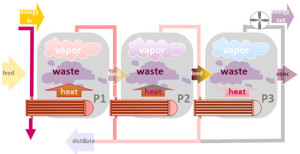 HOW DOES A MECHANICAL VAPOR RECOMPRESSION EVAPORATOR WORK?
Vapor generated within the boiling chamber is exploited. Vapor is adiabatically compressed (energy consumption depends on the compressor operation), temperature level increases and condensation takes place into the main heat exchanger that transfers latent heat to the fluid to be evaporated. An auxiliary heat recovery system offers the opportunity for a significant low energy consumption (about 30W/liter water, 25 times lower than atmospheric evaporation).