Heat pump Vacuum evaporator with forced circulation and external scale heat exchanger
Capacity 700 liters – 48,000 per 24 hours
Drastic reduction in volume and disposal costs
Reuse of water and recovery of metals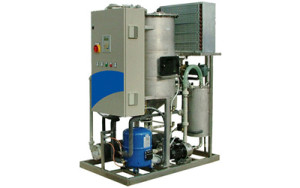 E series is a heat pump vacuum evaporator with powerful circulation through the heat exchanger. As a result of which the medium does not attach, keeps moving and can be concentrated on. Designed to create the highest possible distillate yield at the lowest possible operating costs.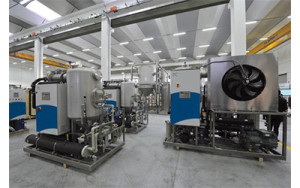 Each model is mounted on a skid, easy, safe and easy to move. Controlled by a PLC including waste water intake and exhaust, the unit works fully automatically under minimal supervision. All models are designed for continuous operation 24 hours a day and only require an electrical connection and compressed air.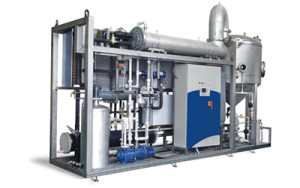 E series vacuum evaporators operate under a high vacuum, in the cooking chamber the pressure is set at 5-6 kPa and the thermal energy is stored which is produced by the heat pump. As a result, the boiling temperature of the waste water is about 40 °C and typical phenomena (scaling, precipitation, corrosion) that reduce performance can be eliminated or significantly reduced.
| | |
| --- | --- |
| Type | Distillaat productie |
| E 700 | 700 l –24h |
| E 1400 | 1,400 l – 24h |
| E 2400 | 2,400 l – 24h |
| E 4000 | 4,000 l – 24h |
| E 6000 | 6,000 l – 24h |
| E 8000 | 8,000 l – 24h |
| E 12000 | 12,000 l – 24h |
| E 24000 | 24,000 l – 24h |
| E 48000 | 48,000 l – 24h |